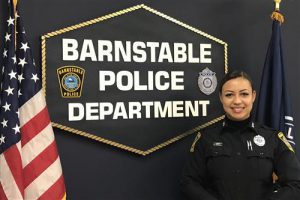 Patrol Officer Wanessa Pizaia was born and raised in Brazil and moved to the United States in 2001. She graduated from Barnstable High School in 2004. In 2017, Officer Pizaia began pursuing her carrier in Law Enforcement. She attended the Plymouth Police Academy and was hired full-time by the Barnstable Police Department.
Officer Pizaia is currently assigned to the patrol unit. In 2018, she worked as a School Resource Officer at Barnstable High School and in addition to her duties as a Patrol Officer, she's a Certified Sexual Assault Investigator. Officer Pizaia is a bilingual Officer which is essential in bridging the gap between different communities and police.
Officer Pizaia is extremely honored to be part of the Adopt-a-School program and believes that providing a positive role model for children is the first step to establish trust and improve the communication between police and the community.