Pride, Honor, Community
The members of the Barnstable Police Department strive to work in partnership with our community in seeking out and solving problems in order to enhance our quality of life. We are committed to preserving the lives, property and rights of all our citizens through proactive policing strategies.
Sgt. Jason E. Sturgis – EOW July 7, 2019
Jason Everett Sturgis was an immensely passionate man who loved his children within the deepest depths of his soul. In 1994, Jason graduated from Barnstable High School making him the fourth generation of Sturgis's to do so.
Nineteen years ago, Jason started his career as patrolman with the Town of Barnstable Police Department. Shortly thereafter he married the love of his life, Sarah Jane DeCenzo and started his family. During the course of his career he attended Curry College and earned a Bachelor of Art's degree in Criminal Justice. Jason was intensely dedicated and proud of being a police officer and always strived to be professional and educated in every aspect of his work. Jason returned to academic studies and earned a Master of Criminal Justice from Curry College all while working and raising his family. In 2017 Jason Sturgis was appointed to the Rank of Sergeant and commanded several shifts at the police department. Jason truly enjoyed his role as leader supervising and mentoring the men and women under his command. Jason worked in many positions at the police department patrolling the streets of Hyannis in the bicycle division, working in detectives, but his most passionate and life changing role was working on the CIU, Community Impact Unit. Jason advocated for those who could not seek help on their own. He dedicated his time and professionalism to assist the homeless and those who suffer from physical, mental, or behavioral deficiencies. This was the most rewarding position in his career and his ability to change people's lives for the better was the true measure of Jason as a man and a police officer.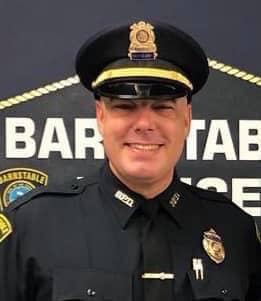 Welcome
Thank you for taking the time to view the Barnstable Police Department's website. We hope this website will provide you with information on how the Department works, its outstanding personnel and a number of the community-based programs we are involved in.
On Wednesday August 7, 2019 the Barnstable Police Department along with the five Town of Barnstable Fire Departments will be hosting the Annual "Kids Day" at the Barnstable High School from 10:00 am to 2:00 p.m.  This event will allow children of all ages to see...
Cape & Islands District Attorney Michael O'Keefe announced today that on July 25, 2019 a Barnstable County grand jury returned indictments against Nicholas Galanto
Check out the department's new website.
For all your information about 4th of July, please check the town website.
The Barnstable Police Department is always on the lookout for new volunteers. Contact us for details.