Pride, Honor, Community
The members of the Barnstable Police Department strive to work in partnership with our community in seeking out and solving problems in order to enhance our quality of life. We are committed to preserving the lives, property and rights of all our citizens through proactive policing strategies.
COVID-19 UPDATE
In order to provide for the health and safety of our staff and the public we serve, some sections and services of the Barnstable Police Department will be open to members of the public for routine business matters on an appointment only basis. This will allow for adequate social distancing protocols, help to prevent the potential spread of the COVID-19 virus and provide our staff and members of the public a safer environment in which to work and do business.
As always, our dispatch center and police desk will remain staffed 24 hours a day and available to provide emergency services to the public as needed.
Our village stations located on Main St in Hyannis and in Marstons Mills at the intersection of Rte 28 and Osterville-West Barnstable Rd will be closed to the public until further notice.
To schedule an appointment with a member of our staff please call our main number at 508-775-0387 and following the voice prompts to the appropriate person, division, or section. To speak with an officer on duty please call 508-775-0387, ext# 8. You can also access our website at www.barnstablepolice.com to contact various divisions and staff members of the Department, send us emails, or contact us via Facebook Messenger; however, always call 911 for emergency services.
Our Records Division will also be operating by appointment with a reduced staff and hours. Please contact Records Supervisor Kathleen Hinckley at 508-775-5466 or hinckleyk@barnstablepolice.com  to arrange for an appointment or to do the following:
Obtain a copy of an incident, accident, or arrest report
Pick up property or evidence
Ask questions about other records related inquires or matters
Firearms licensing services will be provided through the state approved mail in option:
 Applicants new licenses or renewals can download the application from our website ( www.barnstablepolice.com ) under the Records Division, Firearms Licensing tab.
Mail the completed application to the Barnstable Police Department at PO Box B, Hyannis, MA 02601 ATTN: Records Division.
Please be sure to include a check or money order for the licensing fee in the amount of $100 or take advantage of our online payment option. 
Also include a current phone number and email so that records staff can contact you with any questions and make arrangements for an appointment to complete the process.
A receipt of the transaction will be mailed to you
For persons that renew their licenses BEFORE they expire, the transaction receipt will keep your current license active until the new one is either approved or denied.
If you have any questions regarding firearms licensing procedures or applicable fees, Please contact Records Supervisor Kathleen Hinckley at 508-775-5466 or hinckleyk@barnstablepolice.com
If you have an emergency….DIAL 911.
Link to Massachusetts Department of Public Health COVID-19
Link to Town of Barnstable Heath Department COVID-19 UPDATES
Sgt. Jason E. Sturgis – EOW July 7, 2019
Jason Everett Sturgis was an immensely passionate man who loved his children within the deepest depths of his soul. In 1994, Jason graduated from Barnstable High School making him the fourth generation of Sturgis's to do so.
Nineteen years ago, Jason started his career as patrolman with the Town of Barnstable Police Department. Shortly thereafter he married the love of his life, Sarah Jane DeCenzo and started his family. During the course of his career he attended Curry College and earned a Bachelor of Art's degree in Criminal Justice. Jason was intensely dedicated and proud of being a police officer and always strived to be professional and educated in every aspect of his work. Jason returned to academic studies and earned a Master of Criminal Justice from Curry College all while working and raising his family. In 2017 Jason Sturgis was appointed to the Rank of Sergeant and commanded several shifts at the police department. Jason truly enjoyed his role as leader supervising and mentoring the men and women under his command. Jason worked in many positions at the police department patrolling the streets of Hyannis in the bicycle division, working in detectives, but his most passionate and life changing role was working on the CIU, Community Impact Unit. Jason advocated for those who could not seek help on their own. He dedicated his time and professionalism to assist the homeless and those who suffer from physical, mental, or behavioral deficiencies. This was the most rewarding position in his career and his ability to change people's lives for the better was the true measure of Jason as a man and a police officer.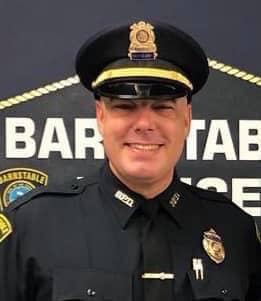 Welcome
Thank you for taking the time to view the Barnstable Police Department's website. We hope this website will provide you with information on how the Department works, its outstanding personnel and a number of the community-based programs we are involved in.
April is Autism Awareness Month April is Autism Awareness Month, and April 2nd is World Autism Awareness Day. In recognition of Autism Awareness, Barnstable Police Officers are authorized to wear our new Autism Awareness Patch on their duty uniform for the month of...
COVID-19 Update from the Town of Barnstable Manager Mark Ells.
Kiosk for medication collection is still available for unwanted medication in the lobby of the Barnstable Police Department. Due to the ongoing issues with the COVID-19, the National Take Back Initiative has been cancelled.
No Results Found
The page you requested could not be found. Try refining your search, or use the navigation above to locate the post.
COVID-19 Update from the Town of Barnstable Manager Mark Ells.
                        PRESS RELEASE                                       December 3, 2019 Michael O'Keefe, District Attorney Cape & Islands District 3231 Main Street Barnstable, MA  02630 Contact: Michael O'Keefe, District Attorney Michael Trudeau, First...